New parents tend to be very worried about the well being and safety of their newborn babies, and it is a very normal reaction. After all, the life of this tiny sweet creature is all in their hands! What can you do to make sure that babywearing is safe? Please follow the rules below – and when in doubt – contact a Babywearing Consultant for help and support.
The internationally agreed rules for safe babywearing form T.I.C.K.S. - please study the below picture and make sure you ticked all the points!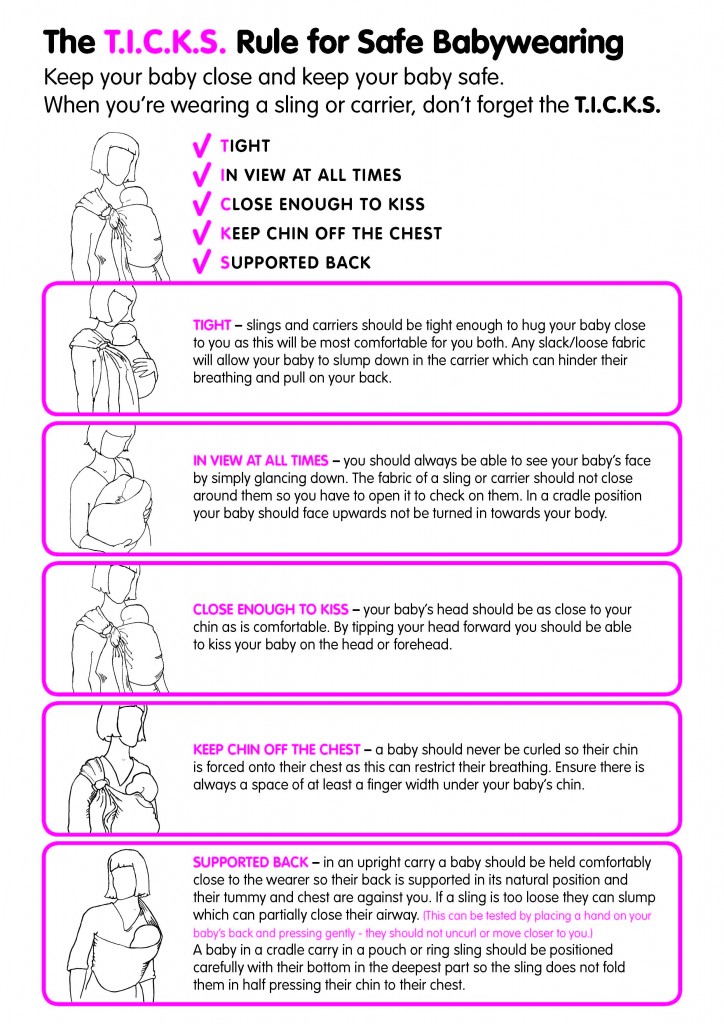 Also note...:

NO cradle hold position is recommended, as this can pose danger to babies breathing.

NEVER get in the car with the baby attached to you in a sling.
 

DO NOT engage in sport activities that require jumping, running, riding a bike etc – which all pose a risk of falling.
 

BE CAUTIOUS around the water – while it's lovely to use a water wrap and wade in the water when it's hot, be aware of the risk of slipping over and immersing a child who is attached to you. Note that while in the sea, others may splash water that could go into your baby's face as well.
 


BE CAUTIOUS while cooking – the hob, oven and barbeques can all cause burns to a child who is too close; be aware of what they could reach, and where feet are at all times. If you have to prepare food while carrying your baby, a back carry is safest, but still be mindful of where little hands and feet can reach.
 


ALWAYS use common sense and remain alert to baby's reactions
 

Use a carrier suitable for the size and weight of your child – do not however fully trust the manufacture's description, especially with regard to the carrier suitability for a newborn baby. Use your common sense and judgment, or ask me for an opinion.
 


Use a carrier only in a safe way, as per instructions found with it - do not follow any instruction found in internet as it may not be suitable for the particular carrier you owe.
 


Check the integrity of your carrier before use – are there any tears or holes that may make the carrier unsafe?